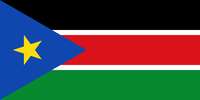 The flag of South Sudan
The capital of the Republic of South Sudan is located on the White Nile, far north of Lake Victoria but south of Khartoum where the Blue and White Nile combine to form the great river of Egypt. Juba was founded as a Greek trading post during Ottoman times. But Juba is also in the centre of the region whence the African half of Egypt's culture originated.

Juba Picture Gallery




Aweil
A small plane left Juba International Airport for Aweil in the morning, two hours late because it was delayed on its earlier flight from somewhere else. Juba Airport's boarding gate area is not a place you want to be stuck in.
Aweil lies in the middle of nowhere. And it wasn't even our final destination.
Aweil Picture Gallery




Slaves in Wanyjok
The subject of slavery fascinated me all my life. I could tell you the usual story of the sophisticated European liberal who obviously opposes all forms of slavery but the truth is most sophisticated European liberals don't. Slavery is alive and well in many place and most Europeans and Americans couldn't care less. Few people are interested enough even to read about slavery, even fewer could be bothered to voice an opinion about actual slavery (rather than the concept of slavery which is universally condemned).
But the truth is, slavery exists; and most slaves are still Africans. And the slavers are Africans too although in the case of Sudan they are Afro-Arabs, descendants of Arab colonisers.
I cannot imagine that many physicians are waiting for an opportunity to work in the centre of Africa. I have no idea how to solve that problem.
New Doctor's Building Picture Gallery